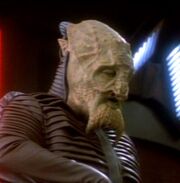 Lissepians were a humanoid species from the planet Lissepia.
Physiology
Lissepians were humanoid in appearance with yellowy-green skin. They had large hairless heads with small pointed ears set high and towards the back of their heads. They had large crescent shaped chins that had multiple bumps along it, which gave them an almost bearded look.
History
In 2344, the Lissepian freighter Pyhapstan smuggled a group of Bajoran refugees out of Jalanda City on Bajor. The Pyhanstan was intercepted by the CDS Javok and damaged. It was saved by the intervention of the USS Hammarskjöld, which took onboard the survivors.[1]
References
External link